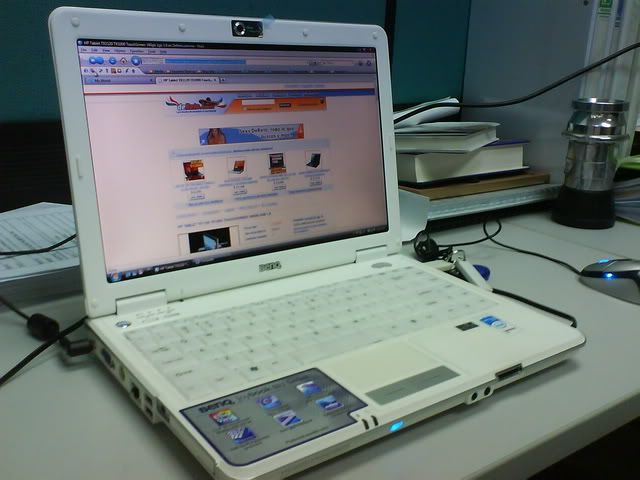 Hmmm... baru hari ni ada mood nak update blog. Sebab apa? Sebab aku dah beli laptop baru... huhuhu!!! Setelah rasa dah cukup duit aku buat keje shooting aku pun decide la nak beli laptop baru. Laptop yang ada sekarang dah lama sangat aku guna, sejak tahun 2003 lagi. Banyak dah jasa kat aku walaupun 2nd hand and spec tak power mana. At least laptop lama tu dah ikut aku merantau sampai ke China, US & Japan.
So the new gadget is BenQ Joybook S32W. Spec as follows:
Intel Centrino Core 2 Duo 1.8GHz
2GB DDRII RAM
120GB HDD
13.3" WXGA UltraVivid screen
1.3MP built-in webcam
5 in 1 card reader
DVD-RW
Aku buat dual boot Vista & XP so sumer software boleh guna, takde masalah. Anytime boleh swap between Vista & XP. Vista memang menarik with all the new features. Aku install VIsta Ultimate terus so dapat sumer features yang ada. So Insya Allah lepas ni aku akan rajin update blog ni. Tambahan pulak Flock dah enable balik blogging thru the browser so senang la sket. Tak payah login kat Blogger untuk post blog.
Selamat tinggal laptop lama aku yang kaler kuning. Selamat la kau ngan owner baru nanti. Terima kasih bebanyak sebab lama setia berkhidmat ngan aku. Jasamu dikenang...